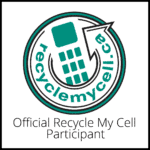 Most of us have at least one old cell phone gathering dust in a junk drawer. Old cell phones and their accessories can be dropped off at any Cell Mechanics location. After they are received, they are sent for responsible recycling or refurbishment.
Why bring in an old device or parts?
Keeping your cell phone out of the landfill helps your local ecosystem and the environment. Recycling your wireless device also decreases the need for raw materials that would otherwise be needed for manufacturing new products. A small effort on your part makes a big difference!
Find a location nearest you