COMING SOON!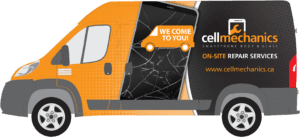 The safest way to fix your phone – we come to you!
Our on-site repair services is the safest way to repair your phone during this trying time. You never have to leave your home, and our technician repairs your device in the on-site repair van while adhering to strict sanitizing protocols to ensure the health and safety of our customers and our team.
Services Offered:
Cracked phone & tablet screens
Charge ports
Microphone ports
Volume button
Battery replacements
Frame & back glass repairs
Data backup
and more!
How does it work?
First, you call our team to make an appointment for a date that works best for you. From there, a certified Cell Mechanics technician will drive out to you at the scheduled date and time, pick up your device and fix it right then and there in our fully equipped repair van! Our technician is able to take credit, debit, and cash payments upon completion.
Online booking coming soon!
Service Area & Hours:
At this time, we only service within the Winnipeg Area.
We operate Monday to Friday from 9:00am – 6:00pm.
Make An Appointment
Coming Soon!